by Cherrie Lo
Introduction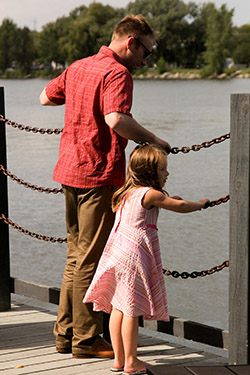 In Canada, children enter elementary school at the age 5 or 6, where they may start to learn independence and gain responsibilities (American Academy of Pediatrics, 2015). During this time, some children may find friendship more important than relationships with their parents, and spend more time on social activities (Stanford Children's Health, n.d.). Social experiences from outside the family may change the family dynamic, as well as the parent-child relationship. Through practicing mindfulness, parents of young, school-aged children can learn to be "present" in their parenting – giving their full attention to their children, and recognizing both challenging and rewarding moments (Marlowe, n.d.). Mindfulness is defined as "the ability to be fully present and attentive in the moment" (Sheridan, 2016, p. 29). Mindfulness is not just a spiritual tradition, it is scientifically proven to reduce stress, burnout, and anxiety. In this blog, a couple of mindfulness exercises are described for parents to try and experiment with.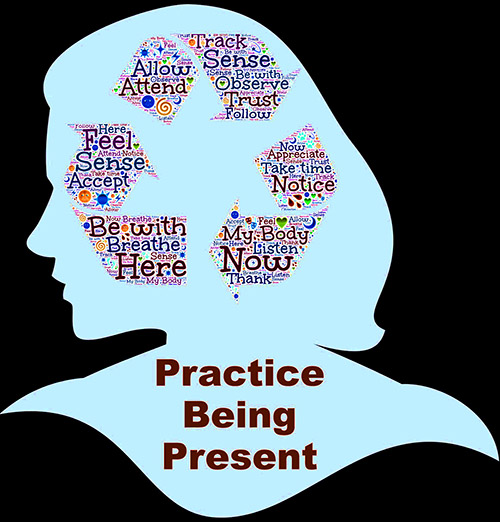 Exercise 1: Daily Mindfulness
While parents may find young school-aged children spending less time with them, there are different mindfulness exercises which allow parents and children to spend time together and bring awareness to the present moment. One mindfulness exercise is "being present with your child" (Marlowe, n.d.). This requires parents to choose a daily interaction with their child and be fully mindful during the entire interaction. For young school-aged children, daily interactions can include walking to school, playing table games, playing oral spelling games and preparing simple meals (Perry et al., 2017). It is important for parents to focus less on other thoughts such as work and chores, and fully participate and be mindful during the daily interaction (Marlowe, n.d.). If the parents' thoughts start to wander, they should try to let those thoughts be, then reconnect to the present again.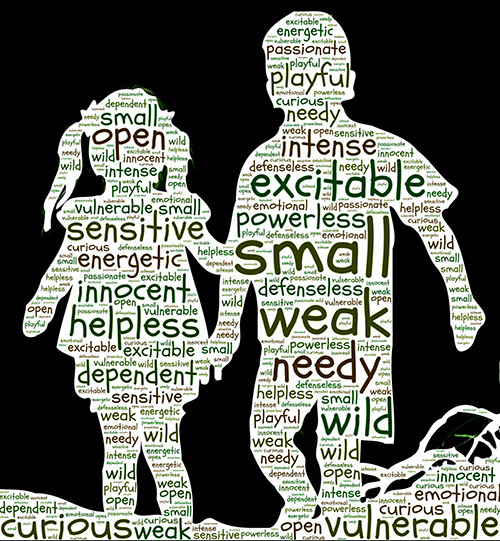 Here are a few questions parents can reflect on in order to recognize the importance of being mindful in daily interaction with their children (Marlowe, n.d.):
How do the daily interactions with your child differ when you are being mindful? For example, do you enjoy the walking your child to school more?
What do you tend to think about when you lose focus while trying to be mindful during daily interactions with your child? What are some ways you can keep from being distracted?
How does being mindful during the daily interaction benefit your relationship with your child?
Could you list at least one way to become more mindful during the daily interaction with your child?
Repetitive interactions like walking to school may become a daily routine or task for parents. However, these experiences compose an important part of their relationship with their children. Parents should practice being present with their children to "experience these little moments as precious moments" (Marlowe, n.d.).
Exercise 2: Mindful of the Good Times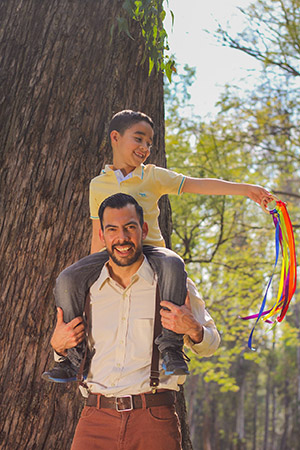 As young children gain independence, they may start to reject the parents' ideas or companionship (Perry et al., 2017). For example, children at 6 years old may start to have strong food preferences and refuse certain food items, and children at the age of 7 may spend more time with peers instead of with family. Some parents may experience rejections from their children and feel hurt.
One mindfulness exercise is "reflecting on positive moments with our children" (Marlowe, n.d.). Instead of thinking about the moments where they were rejected by their children, parents can focus on the happy and positive experiences with the children. For example, the joyful conversation while walking the children to school and while preparing meals, or some funny moments while playing table games and oral spelling games with the children. Parents of young school-aged children can take five minutes and reflect at the end of each day (Marlowe, n.d.). For parents who have been through a rough day, they can try setting an alarm before bedtime reminding themselves to spend five to ten minutes on thinking about a joyful moment or two with their children. If parents have trouble thinking of a positive moment, they could think of things that they appreciate about their children instead,
Exercise 3: Mindful Yoga
Taking care of a young school-aged child, such as meal prepping and studying with the child is time consuming and hard work for parents. Parents can practice yoga to bring a peace of mind to themselves at the end of the day, or to provide a morning burst of energy at the beginning of the day. Yoga is a mindfulness practice to help bring awareness into the present by focusing on the bodily sensations (Woodyard, 2011.). There are different types of yoga such as hatha, vinyasa, and yin, and each involves different movements and dynamics. I particularly like the smoothness of vinyasa yoga, also called vinyasa flow, where yoga poses are connected to each other like dancing. Vinyasa yoga is a moving meditation that does not only benefit mental health, but can also improve physical health (Cespedes, 2018). Some studies have found that vinyasa yoga can improve sleep, reduce stress, strengthen muscles and reduce excess weight.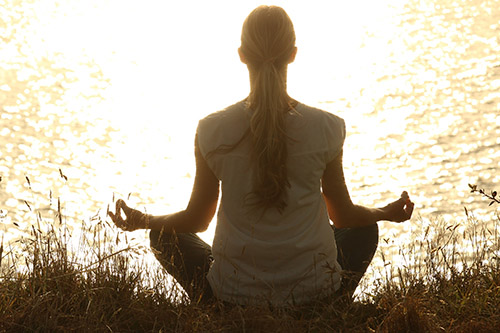 Vinyasa yoga often starts with breathing regulation, such as Ujjayi Pranayama, an ocean sounding breathing through the nose which is demonstrated in the video below. The following is an example of a vinyasa flow which consists of three different yoga poses (Pizer, 2018): the Plank, Cobra, and Downward Facing Dog.
Plank Pose
Begin this routine by assuming the Plank Pose.

Cobra Pose

From the plank pose, lower your knees and chest to the ground to achieve the cobra pose.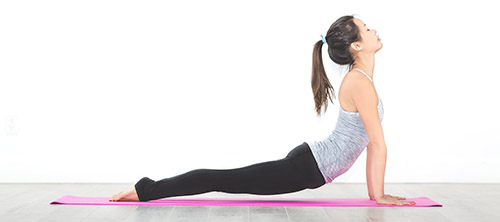 Downward Facing Dog
From the cobra pose, use the strength of your back to lift your body off the ground to achieve the Downward Facing Dog pose. Repeat step one to three for a vinyasa flow.

These poses should be synchronized with deep, steady breathing. However, parents who are beginners at yoga may find it difficult to do so. Instead, they could start the regulated breathing whenever they find losing the breathing pattern.
Mindfulness Technique Video
Check out the mindfulness technique video on yoga breath regulation:
Video created by Cherrie Lo
2 mins, November 2018
Summary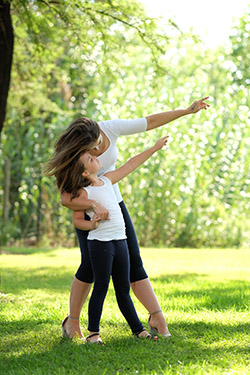 The three mindfulness exercises allow parents of young school-aged children to be "present" during parenting moments. The first two exercises, "being present with your child" and "reflecting on positive moments with our children" improve parent-children bonding as well. A common advantage of these exercises is that they do not require any special location or venues, and can be practiced anywhere and at anytime. Moreover, parents can practice the first two exercises while carrying out their daily tasks with their children, which does not take any extra time out of an already full schedule. Before or after a busy day of work and after taking care of the children, parents can take 10 minutes to practice the third mindfulness exercise – yoga – or do the routine with them. Just a 10-minute session of meditation is found to be associated with lowered blood pressure and daily heart rate, and "reduced heart rate can be a sign of reduced stress" (Cespedes, 2017).
Mindful Parenting Resources
Parent Support Services Society of BC

The Parent Support Services Society of BC, a provincial charitable organization, aims to promote wellbeing of both children and parents, as well as to "build support, advocacy, education, research, and resources" in their communities. One support service which can be beneficial for parents of young school-aged children is "parenting education". This includes workshops and events that provide information to address problems in relationships, finances, child-rearing among parents. For example, there are workshops which educate parents about Registered Educations Saving Plan and when, why and how to talk to the children about sexual health.
URL: https://www.parentsupportbc.ca/
---
The BC Association of Family Resource Programs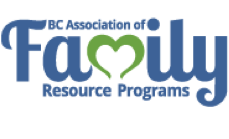 The BC Association of Family Resource Programs (FRP-BC) supports healthy family development through family-centred programs. The five core service areas of FRP-BC are "family support, play-based learning, early learning and literacy, parent education and, information and referrals". It collaborates with community-based centres to provide services and resources. For instance, FRP-BC houses the Abbotsford Family Centre – The Parenting Place, providing services such as the "Father Involvement Program" and "Young Parent Program". These parenting-programs are usually for parents of children up to six years old.
URL: http://www.frpbc.ca/
---
Spirit of the Children Society

The Spirit of the Children Society is an Indigenous non-profit organization that supports and provides resources to families in Burnaby, New Westminster, and Tri-Cities. The unique cultural values and beliefs in Indigenous children and parents are considered in this organization, providing safe and respectful environment for the service users. Parents of young school-aged children can benefit from programs and services such as the "Aboriginal Family Housing Support", "Family Strengthening Program" and "Traditional Aboriginal Parents Program (TAPP)". For instance, TAPP applies the Medicine Wheel in teachings to encourage personal healing in parents over a course of 11 weeks. These teachings include stress management, child development, and discipline.
URL: https://www.sotcs.ca/programsservices/traditional-aboriginal-parents-program-tapp/
---
Smiling Mind APP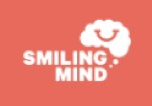 The Smiling Mind is an app developed by psychologists and educators to promote mindfulness in both parents and children. It sets daily meditation reminders for the user, and provides guided meditation and mindfulness techniques. An example of guided meditation is "body scan", guiding the users through audio to be aware of bodily sensations, and to relieve tension. The APP features a "10 minutes a day is all you need" to see the benefits in improving mental health. Moreover, all guided meditation and mindfulness are tailored to the specific population, such as parents and children.
URL: https://www.smilingmind.com.au/smiling-mind-app
---
Raising Children Network

The Raising Children Network is a parenting website, supported by the Australian Government, which provides information on the growth and development of children at different stages. This specific URL from Raising Children Network focuses on children of five to six years old. It breaks down child development into different categories such as playing and learning, feelings and thinking, allowing parents to help their child to grow healthy according to the developmental stages. In addition, the website educates parents about when to be concerned about the child's development at this age period. Throughout the webpage, there are underlined phrases that prompts readers to click on for further details. For example, parents can click on "looking after yourself" in the "parenting a school-age child" section for tips to balance personal life.
URL: https://raisingchildren.net.au/school-age/development/development-tracker/5-6-years
---
References
American Academy of Pediatrics. (2015). Parenting School-Age Children. Retrieved from https://www.healthychildren.org/English/family-life/family-dynamics/Pages/Parenting-School-Age-Children.aspx
Cespedes, A. (2017). Meditation and Heart Rate. Retrieved from https://www.livestrong.com/ article/249472-meditation-and-heart-rate/?ajax=1&is=1
Cespedes, A. (2018). What Are the Benefits of Vinyasa Yoga? Retrieved from https://www. livestrong.com/article/332693-what-are-the-benefits-of-vinyasa-yoga/
Marlowe, S. (n.d.). Mindful Parenting. Mindful Families. Retrieved from http://www.mindfulfamilies.ca/ index.php/mindful-families/mindful-parenting/mindful-parenting-home
Perry, S. E., Hockenberry, M. J., Lowdermilk, D. L., Wilson, D., Keenan-Lindsay, L., & Sams, C. A. (2017). Maternal Child Nursing Care in Canada (2nd ed.). Toronto, ON: Elsevier Canada.
Saoji, A. A., Raghavendra, B., & Manjunath, N. (2018). Effects of yogic breath regulation: A narrative review of scientific evidence. Journal of Ayurveda and Integrative Medicine. doi:10.1016/j.jaim.2017.07.008
Sheridan, C. (2016). The mindful nurse: using the power of mindfulness and compassion to help you thrive in your work (1st ed.). Lexington, KY: Rivertime Press.
Stanford Children's Health. (n.d.). The Growing Child: School-Age (6 to 12 Years). Retrieved from https://www.stanfordchildrens.org/en/topic/default?id=the-growing-child-school-age-6-to-12-years-90-P02278
Pizer, A. (2018). Introduction to Vinyasa Flow Yoga. Retrieved from https://www.verywellfit. com/introduction-to-vinyasa-flow-yoga-4143120
Woodyard, C. (2011). Exploring the therapeutic effects of yoga and its ability to increase quality of life. International journal of yoga, 4(2), 49-54.