By Aliya Khan
Mindful Parenting of Children 5 to 7 Years of Age
Building a Healthier & Happier Family through Mindfulness!
Welcome to mindful parenting for you & your family! This website will provide you with information to help strengthen and foster positive relationships between you and children in your family between 5 and 7 years old. Some of you may be wondering what it means to be mindful, and that is okay! Mindfulness will help you and your child manage stress (Sheridan, 2016). It will help you and your child become more aware of the present moment, thoughts and feelings (Sheridan, 2016). Mindfulness will also help strengthen the relationship and communication between you and your child!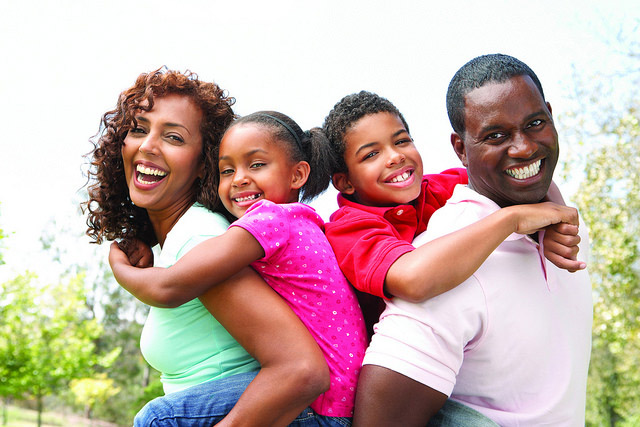 Your Child's Growing Bodies, Minds, & Ideas!
As your child's body grows, so will his or her needs, thoughts, and behaviours. You play a bigrole in supporting your child's growth and development. Your support in helping build relationships with peers, boosting self-esteem, and offering words of praise, encouragement and accomplishment are critical to positive child development (Perry et al., 2017). Here is a list of some of the changes you can expect your child to experience, coupled with ways you can help ensure positive growth:
Between the ages of 5 to 7, children continue to gain weight and height (Perry et al., 2017). As their bodies grow, so does their dietary needs. Your child may also lose his or first baby tooth during this time as well (Perry et al., 2017)! It is important to teach your child about healthy dental care and adult teeth!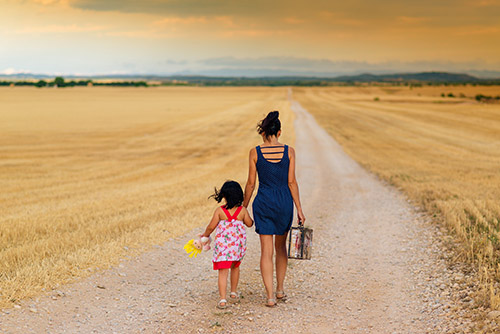 Your child is starting to learn about feelings and how to react to different situations (National Collaborating Centre for Aboriginal Health, & First Nations Health Authority, 2013a). He or she may also begin to notice how others around them feel. You can help your child understand feelings better by asking questions such as:

How do you think this person feels?
Why do you think this person feels this way?
What do you think this person needs?
Your child is beginning to shape his or her personality (Perry et al., 2017). A loving and stable home and family environment can help shape a strong and healthy personality for your child. These interactions at home will influence the relationships that your child will form in school and community settings as well (Perry et al., 2017).
During the ages of 5 and 7, your child's moral values will be a reflection of the ones you hold (Perry et al., 2017). The rules, behaviours, rewards, and discipline you practice at home will influence your child's moral development.
These are just some of the changes your child may experience during the ages of 5 to 7 years. This web guide will help prepare you for these changes using mindfulness & communication techniques.
Ensuring Positive Family Meal Times, Dietary Habits, & Appetites!
As mentioned above, your child's growth may lead to changes in appetite and food selection (Perry et al., 2017). He or she may become pickier with what they want to eat as well (Centers for Disease Control and Prevention, 2018). Fear not, for there are healthy ways to help your child overcome food preferences and methods for them to learn healthy meal time behaviours! It is important to remember to approach challenges such as this in a positive manner, without yelling, force, or shame. Here are some mindful tips when working through this: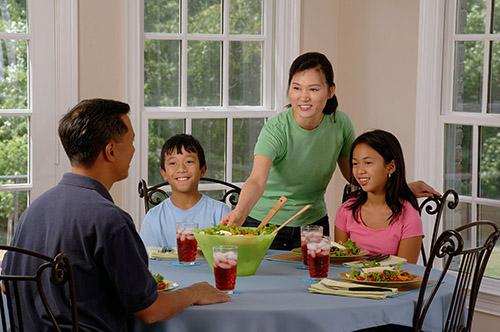 Sometimes, children need to try foods more than once before they like it (Centers for Disease Control and Prevention, 2018). Try introducing the food on multiple occasions. Leave a space of time between when your child next tries the same food item. Let's say your child does not like broccoli. Wait a week before getting your child to try broccoli again.
Set some rules for the dinner table (Weller, 2017). Some parents may let their child know that toys are not allowed at the table, food needs to stay on the plate, and everyone needs to help clean up. This will help your child understand what behaviours are appropriate during dinner time. You can help instill these behaviours by mirroring these actions as well (e.g. no cell phones at the table).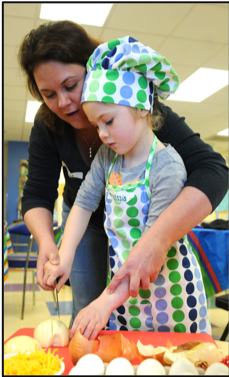 It is healthier to not use food as a type of reward for your child. Using food as a reward or way of showing affection can lead to your child using food as a way to cope with stress or other feelings (Gavin, 2015). Instead, you can use hugs, words of encouragement or affection, and one-on-one time to show your child you love them.
Involve your child in the food preparation and clean-up processes (Weller, 2017). Make sure to let them participate in age-appropriate tasks. For example, they can stir, cut soft vegetables, and serve food. By letting your child prepare the meal with you, they will know what to expect for meal prep, and they may be more open to trying new foods (Weller, 2017).
Let your child have some control over what they eat (Gavin, 2015). While it is important for you to buy healthy foods for your child to eat, you can give your child some choice as to what they would like from what you selected. It can also help to schedule regular meal and snack times for your child (Gavin, 2015).
Destress with Your Child: Breathing Circle Activity
We all know what stress feels like! Busy work schedules, taking the kids to lessons, paying bills; these are all things that may stress us adults out! Although your child is only 5, 6, or 7 years old, he or she experiences stress too! They may feel stress about starting school, making friends, fears, or trying a new activity (Perry et al., 2017). Since you and your child feel stress, why not destress together? By destressing with your child, you are teaching him or her a positive way to manage stress. Your child will look to you for how to react in stressful times and will learn and use these behaviours to manage his or her own stress as well (Perry et al., 2017).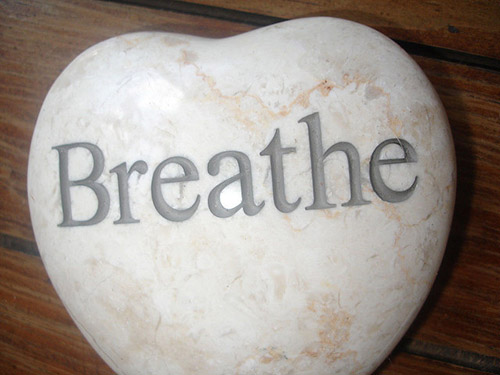 Deep breathing is a mindful exercise known to be useful in managing one's stress (Sheridan, 2016). It helps our minds focus on the present moment, and it helps to release stress and tension that can build within us (Sheridan, 2016). For this activity, you and your child can incorporate deep breathing and mindfulness as follows: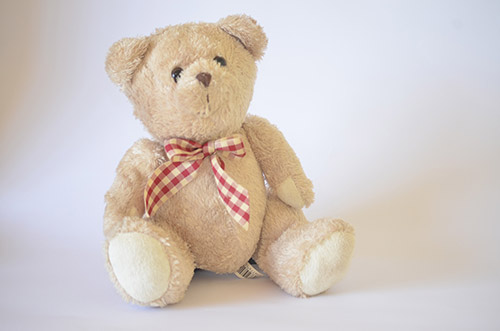 Let your child pick out a teddy bear or light toy to do this activity with. You can also get a teddy bear to help your child get more excited about this activity. For children 5 years old, it may be helpful for you to make a story about this teddy bear so that they are more engaged in the activity.
Everyone can lie in a circle together. Have your child focus on the teddy bear while taking a deep breath in, followed by a deep breath out. If it helps your child to know how long to breathe, they can count to 3 while breathing in. They can also count to 3 when breathing out. Your child's focus will remain on his or her breathing, as well as the rise and fall of the teddy bear. As a result, he or she will be more aware of the present moment, breathing rate, and the calmness in the situation (Sheridan, 2016). You will notice that you also experience these same emotions when participating in this activity.
You and your child can do this activity for a minute or two at least three times a day. Remember to talk to your child about how he or she feels before and after the activity. This helps to ensure that both you and your child are on the same page about the benefits of this activity on coping with stress. This activity can help calm your child in stressful or anxiety-provoking situations.
Try the Destress with Nature Video
Video created by Aliya Khan
 2 mins, November 2018
Mindful Parenting Resources
Teaching Children Mindful Awareness And Self-Love Through Stories

One of the ways that you can build a positive relationship with your child is by reading together. Your child may begin learning how to read between the ages of 5 to 7. Through reading, your child develops exploration skills, and expands his or her imagination and knowledge (Perry et al., 2017). Reading with your child has also proven to build a stronger relationship between you both (Hyra, 2015). In this section, discussions about age-appropriate books, as well as methods to enhance learning and inquisition during reading are discussed. For example, the use of picture books can help your child better understand a story. Asking questions and allowing questions are also two ways that learning during reading periods can be made better (Miller & Stoeckel, 2019). Cuddling with your child while reading is an excellent way to show your love and affection for your child as well (Hyra, 2015). Click the link below to explore these ideas further!
URL: https://www.yourbodythetemple.com/mindful-reading-with-children-2/
---
Fun Ways to keep your Child Healthy!

With your child starting school, there is a high chance that he or she may come home with a bug! This section will discuss exciting and interactive ways that can help you teach your kids about ways to stop bugs from coming home and getting them sick (e.g. proper handwashing). Each activity keeps in mind that children in this age group learn best through their own experiences and social interaction (Perry et al., 2017). Sentences are kept short, and words are no longer than 8 letters so that your child can participate in the interactive, online games (Miller & Stoeckel, 2019). A play-based approach is taken to a lot of the activities, as this is an effective way of teaching your child and building a strong bond between you and your child (Perry et al., 2017). The simplified language ensures that your child can better understand the information shared in these education tools. Your child can play or participate in each activity with you, or with another peer.
URL: https://www.parents.com/health/hygiene/10-things-mommy-docs-do-to-keep-their-kids-healthy/
---
Mindful Discipline for Kids

Children between the ages of 5 to 7 may be able to know rules specific to behaviours, words, and situations; however, they do not yet know the reasons behind such rules (Perry et al., 2017). Likewise, having a rewards and punishment system may help them to identify which behaviours are "bad" and which are "good." Unfortunately, this system may lead kids in this age group to think that accidents or injuries they experience are a result of them being bad (Perry et al., 2017). It is important for you to talk to your child about why they are being rewarded or punished. It is also crucial to let your little one know that no one is to blame when accidents such as falling off a bike happens (Perry et al., 2017). By having honest, nonjudgmental, and open conversations with your child about discipline, you are fostering a bond of trust between you and your son or daughter (Austin & Boyd, 2015). Your child will carry this trust and shared information with them in later years of life as well (National Collaborating Centre for Aboriginal Health & First Nations Health Authority, 2013b). Thus, this web page will provide you with tips on how you can speak to your child about accidents, rewards, and punishments. You will also learn about healthy ways you can reward and discipline your child.
URL: https://greatergood.berkeley.edu/article/item/mindful_discipline_shauna_shapiro
---
How to Practice Self-Regulation

Self-regulation can be defined in various ways. In the most basic sense, it involves controlling one's behavior, emotions, and thoughts in the pursuit of long-term goals. More specifically, emotional self-regulation refers to the ability to manage disruptive emotions and impulses. In other words, to think before acting. It also reflects the ability to cheer yourself up after disappointments and to act in a way consistent with your deepest held values.
URL: https://www.verywellmind.com/how-you-can-practice-self-regulation-4163536
---
Self Care – why it's the first step to Mindful Parenting

Parenting is never an easy task. Parents might make mistakes sometimes and that's okay! No parent is perfect. The video displayed on this page will help you learn to bask in the present moment and forgive yourself. This page will also focus on self-care as well. Parenting can be stressful in itself; couple it with finances, meal preparation, and work responsibilities, and you are looking at high levels of stress! A build-up of stress without any efforts of its relief can lead to burnout, an emotional explosion, or a perception that the usual fun stuff is now a chore (Roberts, 2017).
URL: http://www.mindfulparentinguae.net/single-post/2016/03/02/Self-Care-why-its-the-first-step-to-Mindful-Parenting
---
References
Army Medicine. (2014). Being Healthy is Beautiful. Retrieved from https://www.flickr.com/photos/armymedicine/13584554804

Austin, W., & Boyd, M. (2015). Psychiatric & mental health nursing for Canadian practice (3rd Ed.). Philadelphia: Wolters Kluwer Health.

Centers for Disease Control and Prevention (2018). Picky Eaters and What to Do. Retrieved from https://www.cdc.gov/nutrition/InfantandToddlerNutrition/foods-and-drinks/picky-eaters.html

Gavin, M.L. (2015). Kids and Food: 10 Tips for Parents. Retrieved from https://kidshealth.org/en/parents/eating-tips.html

Hyra, A. (2015). Strengthening Literacy and Father-Child Relationships through Reading [PDF Document]. Retrieved from National Responsible Fatherhood Clearinghouse Website: https://www.fatherhood.gov/sites/default/files/webinar/slides/nrfc_webinar_slides_july_2015_final_508c.pdf

Josealbafotos. (2014). Girl Family Path. Retrieved from https://pixabay.com/en/girl-family-path-child-mother-1077334/

Miller, M. & Stoeckel, P. (2019). Client education: Theory and Practice (3rd Ed.). Burlington, MA: Jones & Bartlett.

National Collaborating Centre for Aboriginal Health & First Nations Health Authority. (2013a). Family Connections. West Vancouver: Author.

National Collaborating Centre for Aboriginal Health & First Nations Health Authority. (2013b). A Child Becomes Strong: Journeying Through Each Stage of the Life Cycle. West Vancouver: Author.

Perry, S. E., Hockenberry, M. J., Lowdermilk, D. L., Wilson, D., Keenan-Lindsay, L., & Sams, C. A. (2017). Maternal child nursing care in Canada (2nd Ed.). Toronto, ON: Elsevier Canada.

Praneshm. (2014). Teddy Bear. Retrieved from https://pixabay.com/en/teddy-bear-toy-cute-childhood-1562420/

Raising Children (Australia) Network Limited. (2017). Parent technology use: being a role model. Retrieved from https://raisingchildren.net.au/grown-ups/family-life/media-technology/parent-technology-use

Roberts, L. (2017, January 24). Why self-care is an important part of parenting, and how to make time for it. The Washington Post. Retrieved from https://www.washingtonpost.com/lifestyle/on-parenting/in-defense-of-a-parents-day-off/2017/01/23/270ffafc-d8f2-11e6-b8b2-cb5164beba6b_story.html?noredirect=on&utm_term=.e2be3f92c0cd

Rosario, S. (2015). Parents and their kids cook healthy and tasty meals. Retrieved from https://commons.wikimedia.org/wiki/File:Parents_and_their_kids_cook_healthy_and_tasty_meals_150321-A-ZT122-110.jpg

Rossi, S. (2007). Breathe. Retrieved from https://www.flickr.com/photos/shawnzlea/866110617

Sheridan, C.B. (2016). The mindful nurse: using the power of mindfulness and compassion to help you thrive in your work. Lexington, KY: Rivertime Press.

Skeeze. (2015). Family Eating at the Table. Retrieved from https://pixabay.com/en/family-eating-at-the-table-dining-619142/

Weller, S. (2017). 7 Tips to Make Mealtimes Less Stressful. Retrieved from https://blog.cincinnatichildrens.org/healthy-living/child-development-and-behavior/7-tips-to-make-mealtimes-less-stressful/