by Abbi Fowler and Hannah Roy
Using Mindfulness to contribute to a Good Death: A Guide for Families and their Loved Ones
As we age, the aspect of death may creep into our minds more often than we may like. In many cases death occurs suddenly with little to no indication, while others may receive a diagnosis terminal in nature that allow individuals and their families time to plan and organize the type of care they wish to receive when the time comes. Death can create feelings of worry, anxiety and fear, however there are strategies that can be used by both the individual and the family to prepare for the process of dying as well as death itself that will optimally support the individual to experience a "good death".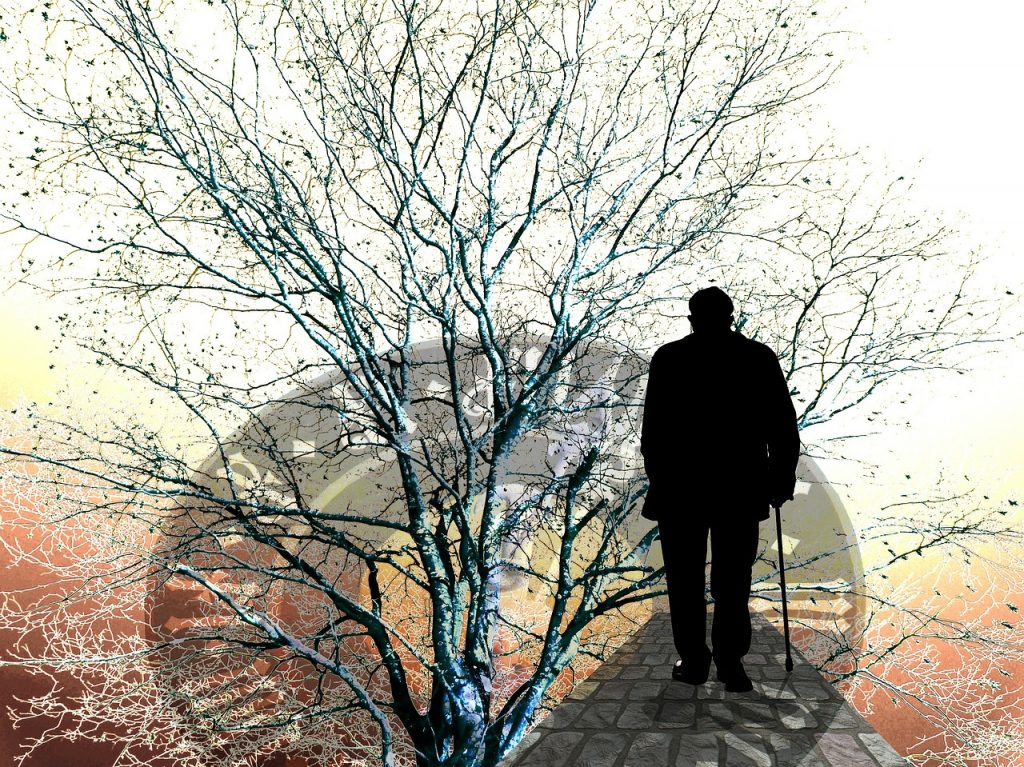 What is meant by a good death? The term encompasses the preferences of an individual that support the way in which they would like to die. For example, dying at home, effective pain management, use of alternative therapies, surrounded by loved ones etc. (Repa, 2018). What constitutes a good death will be different for every individual as individual's needs, preferences, ideas and perceptions of death vary significantly.
One way a good death can be viewed, is the way in which individuals would ideally like the process of death to be like for them and their family. Death not only involves the physical aspects of one's body but also the emotional, social, mental and spiritual spheres of one's overall wellbeing. However, when someone approaches death, mindful care should be provided in a holistic way that allows both the family and the individual to be as comfortable as possible.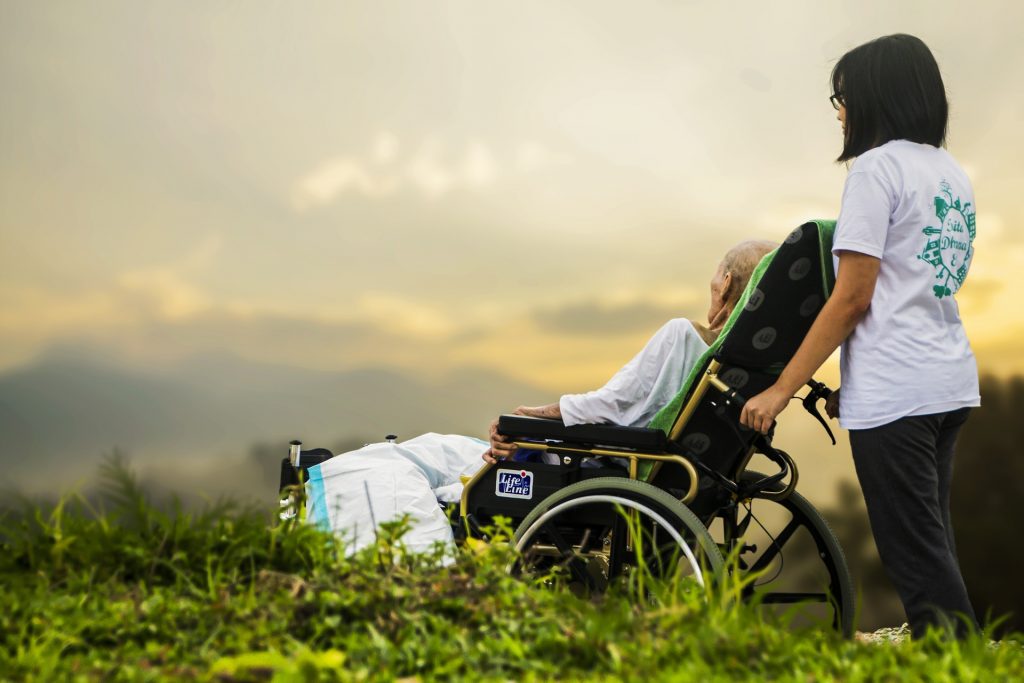 Facing our own or a loved one's mortality is possibly one of the hardest things that humans experience. In Canada, many of us choose to almost ignore death, which can make us fearful, unprepared, and closed off to death. Dying with dignity is possibly one of the most important factors in a 'good death'. "Dignified dying" has been defined as maintaining personal comfort and control as the end of life approaches (Rankin, Donahue, Davis, Johnson, Maas, Wedig & Katseres, 1998).
Mindfulness and a Good Death
There are many different ways to help an individual have a dignified death and if the individual is open to using mindfulness it is a great tool to incorporate. Mindfulness is an exercise that allows and supports individuals to focus attention on their current feelings, emotions and internal body sensations (Stella, 2016). When an individual practices mindfulness they approach their current experiences of feelings, emotions and internal body sensations in a non-judgmental, accepting and compassionate manner (Stella, 2016).
Mindfulness practice gives insight into feelings that may be causing anxiety and fear and creates a healthy space to confront these emotions. Mindfulness of death supports an individual and family to prioritize what is important in their life. It helps us live our last days with purpose and intention and helps mitigate feelings of uncertainty and fear so, these feelings do not consume one's final days of life (Shonin & Gordon, 2014).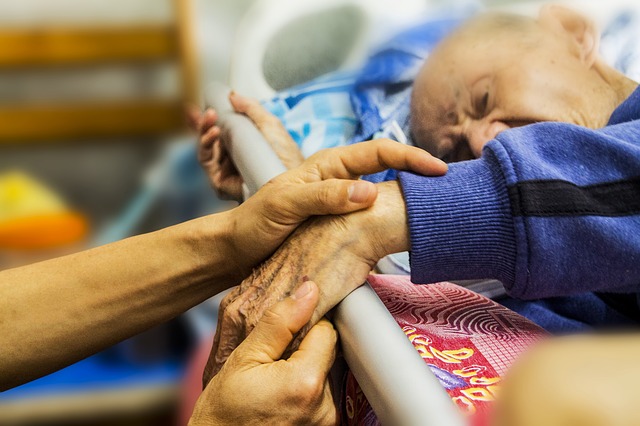 It will take time to feel comfortable when practicing mindfulness as it requires a degree of attention and purpose that may have never been accessed before. Mindfulness practices can be used by both the individual who is approaching death as well as their family members and friends to address unpleasant and intrusive feelings surrounding death, grief and loss.
Mindfulness Exercises
When an individual has a strong fear of death it can lead to unbearable anxiety. When a dying individual has anxiety they feel that their pain is increased, discomfort is increased and no matter what interventions are tried to relieve all of those things the anxiety and fear still prevail. Using mindfulness to relieve some of the anxiety and fear for the individual can be beneficial. Here is a short exercise for individuals to realize the fear is present and to keep the fear and anxiety from controlling them.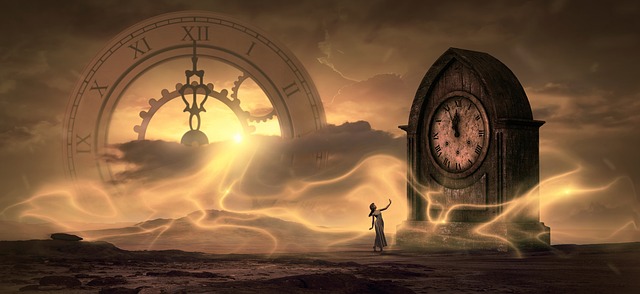 When anxiety and fear creep in start paying close attention. Notice your heart pumping more, your chest tightening, your body stiffening, let an imaginary alarm go off in your head.
Take as many deep breaths as you need to slow your body down. Placing your hand over your heart may help.
Acknowledge to yourself, I'm fearful, I'm anxious, I'm worried. Name the fear so you can create a distance between yourself and the intensity of the emotional reaction.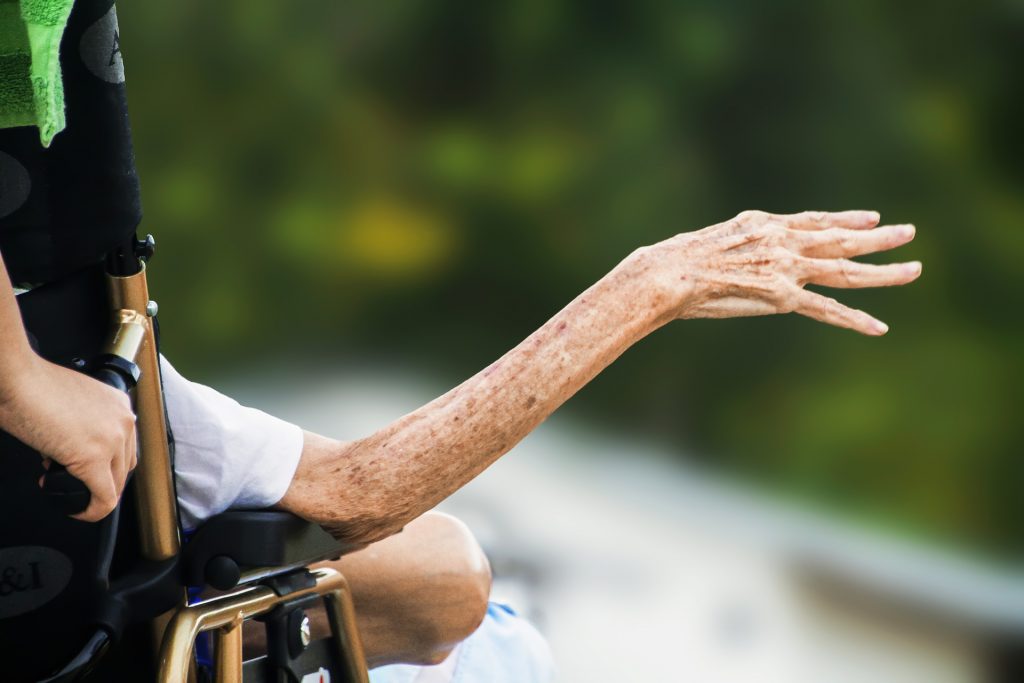 Say a few phrases of well-wishing toward yourself.
'May I see the source of my fear'?
'May I be safe and free from fear'?
'May I be happy and at ease?'
As fearful thoughts of dread and worry continue to arise, approach them with openness. Don't treat them as a threat.
Be kind toward yourself for being afraid. See what happens when you hold your ground and let the fear rise in your mind. You may find comfort inside.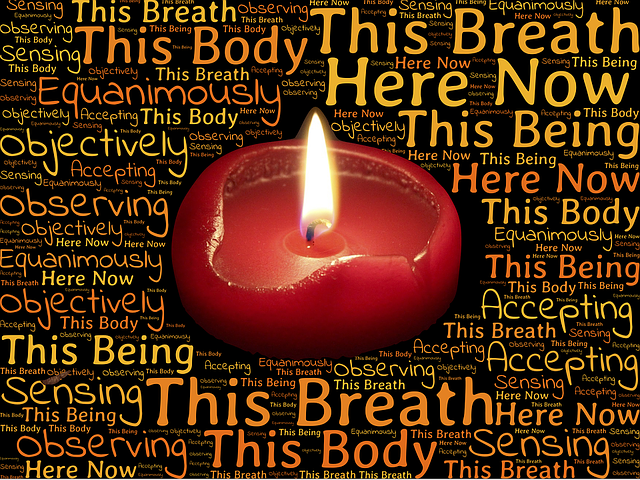 Mindfulness for Family Members
Family members and friends also experience waves of emotion when supporting their loved one through the dying process. It is not uncommon for family to not verbalize their feelings and/or emotions they are experiencing with others, as they do not want to burden anyone. If we keep these thoughts to ourselves they can manifest into negative self-talk and faulty thinking. Negative self-talk and even faulty thinking has the ability to perpetuate feelings of anxiety and fear surrounding death of a loved one. Below is a useful mindfulness exercise to address faulty thinking.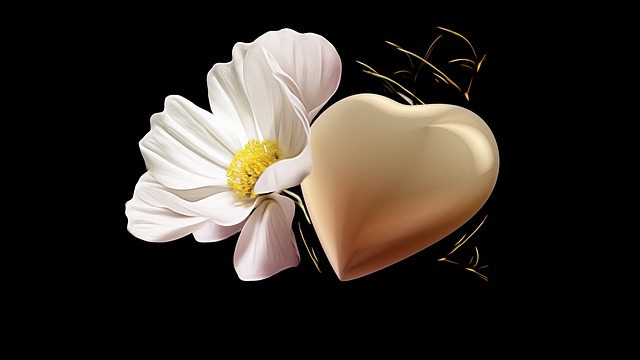 Remember thoughts are not necessarily facts.
Just because you are thinking something does not make it true.
Is it true?
Ask yourself, why this thought could be true? What information do you have would suggest that is true?
We often always believe what we tell ourselves regardless of factual information.
Ask yourself, why this thought could be true? What information do you have would suggest that is true?
Is it absolutely true?
Try to think of reasons and/or explanations of why this thought could not be accurate or true.

How does this thought make you feel?
Close your eyes and take a few deep breaths, focus on the inhale and exhale of the breath.
Sit quietly, what feelings and emotions do you begin to experience?
Acknowledge these feelings, do not avoid them.
Repeat affirmations " this feeling/emotion is not a threat", "I can handle anything that comes my way", "I am safe and loved".
Open your eyes.
What would things be like if I did not hold this belief?
If I did not hold this thought or belief, what would happen good and bad?
Is this thought beneficial to myself or others?
Body Scan exercise for Pain Reduction Video
Video created by 
Hannah Roy and Abbi Fowler
1:50 mins, November 2018
Resources for a Good Death
Dying with Dignity Canada

This website is the platform for the national human-rights charity devoted to improving the quality of dying, protecting end-of-life rights and helping Canadians avoid unwanted suffering (Dying with Dignity, 2015). Much of the information shared on this website focuses on end-of-life options including information on medical assistance in dying (MAID). This websites offers support to the individual who is dying as well as their family and loved ones. There are three main tabs on the home web page including find support, education and our issues. Within these tabs you can find a wide variety of information including emotional support and bereavement counseling, navigating a request for MAID, a patient navigation booklet, finding palliative care resources where you live, and making an advance care plan etc. This website also shares two of their social media platforms including Facebook and Twitter as well as a blog that shares personal stories of individuals and families surrounding their experience of MAID.
URL: https://www.dyingwithdignity.ca/
---
The Art of Dying Well

This website offers an abundance of information and resources for individuals who are in the process of dying as well as their family and friends. Not only does this website offer written information there are also videos available to complement the information being shared. There are 6 main tabs at the top of the home web page which include what is dying well?, talking about death, facing death personally, losing a loved one, caring for the dying and about this site. If you click on one of these tabs it will further explore the topic into many subcategories. The website also shares their social media platforms in the top right
corner including Facebook, Twitter, YouTube and Instagram. A very interesting resource – this website also offers podcasts regarding all things related to death, which are free to access.
URL: http://www.artofdyingwell.org
---
The Sacred Dying Foundation

The Sacred Dying Foundation provides resources for individuals who are approaching death. The homepage displays five tabs including home, about us, events, contact, media and resources. The events page shares various events in the Vancouver area including workshops and meet and greets (death cafe) for individuals who are approaching death as well as their loved ones. The resource tab is extremely valuable as it shares a list of books and websites that can be beneficial for anyone impacted by the process of dying or death itself.
URL: http://dyingmatterscanada.com
---
The Conversation Project

The Conversation Project is a public engagement initiative with a goal to have every person's wishes for end-of-life-care expressed and respected; too many people die in a manner they would not choose, and too many of their loved ones are left feeling bereaved, guilty, and uncertain (Institute for Healthcare Improvement, 2018). Starting the conversation about death can be very difficult for many and The Conversation project wants to help by offering tools, guidance, and resources to begin talking with those that are close to you about their wishes.
URL: http://www.theconversationproject.org/
---
Canadian Virtual Hospice

The Canadian Virtual Hospice provides support and personalized information about palliative and end-of-life care to patients, family members, health care providers, researchers and educators ). The Canadian Virtual Hospice started in 2004. At the Canadian Virtual Hospice, you can ask a professional any questions you have about your individualized experience. This is a safe place to sort through issues related to death and dying; the information and support they get helps make sense in times of confusion, offers compassion in times of isolation, and reassurance in times of anxiety.
URL: http://www.virtualhospice.ca
---
References
Goldstein, (2017). Mindfulness and Psychotherapy. Thoughts are not Facts (Practice). Retrieved from https://elishagoldstein.com/thoughts-are-not-facts/
Institute for Healthcare Improvement. (2018). The Conversation Project. Retrieved from http://www.theconversationproject.org/
Rankin, M., Donahue, M., Davis, K., Johnson, M., Maas, M., Wedig, J., & Katseres, J. (1998, January 01). Dignified dying as a nursing outcome. Outcomes Management for Nursing Practice [01 Jul 1998, 2(3):105-110.
Repa, B., (2018). What is a "Good Death". Retrieved from https://www.caring.com/articles/a-good-death
Shonin, E., & Van Gordon, W. (2014). Mindfulness of death. Mindfulness, 5(4), 464-466.

Stella, M. (2016). Befriending death: A mindfulness-based approach to cultivating self-awareness in counseling students. Death Studies, 40(1), 32-39.